Back to all posts
Posted on
Apples Fundraiser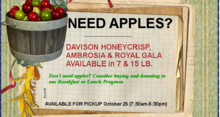 Our school council is having an apples fundraiser with proceeds going towards school spirit activities. This year the school council has decided to do something very different for our primary fundraiser. We have chosen to have our students sell apples that have been grown at a family-run orchard in Vernon, BC. Not only will our school community be supporting a Canadian owned business, but we will be promoting delicious and healthy eating with our children. On top of it all lunches will be quicker and easier to make for us parents! This is truly a win for everyone so we hope that you will encourage your child to get out there and sell apples to all your family, friends and neighbours. We thank you in advance for your support of our wonderful school!
Davison Honeycrisp: (7 lbs for $18 or 15 lbs for $35)
Amazing flavour and a unique texture
Davison Orchards' most requested apple
Ambrosia: (7 lbs for $17 or 15 lbs for $32)
A beautiful red apple with incredible sweetness
A premium variety discovered in BC
This apple keeps very well and is one of their top sellers
Royal Gala: (7 lbs for $15 or 15 lbs for $28)
A fantastic crisp and sweet apple that is great for snacking
A unique red stripy colour and delicious flavour
Okanagan Blend: (7 lbs for $15 or 15 lbs for $28)
Open the box and enjoy the surprise!
A mix of 2 of their freshest varieties in one box
Great for both baking and fresh eating
PRIZES!
"Reading Buddies" work together to raise the most money per student to win a PIZZA PARTY. The top seller for elementary and middle school will each win a $75.00 gift card to Bower Mall...AND… All students who sell at least $50 worth of apples will be entered to win one of three $50 gift cards from Bower Mall!
To order your apples, please fill out the tracking sheet and pick up your apples by October 25 from 7:30 a.m. to 5:30 p.m.