Back to all posts
Posted on
Fatih & Fun Day at Rogers Place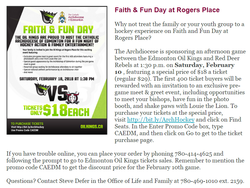 The Archdiocese is sponsoring an afternoon game between the Edmonton Oil Kings and Red Deer Rebels at 1:30 p.m. on Saturday, February 10.  Tickets are $18 a ticket (regular $29).  
The first 400 ticket buyers will be rewarded with an invitation to an exclusive pre-game meet & greet event, including opportunities to meet your bishops, have fun in the photo booth, and shake paws with Louie the Lion.  To purchase your tickets at the special price, visit http://bit.ly/ArchHockey and click on type CAEDM and then click on Go to get the ticket purchase page.
Questions? Contact Steve Defer in the Office of Life and Family at 780-469-1010 ext.2159.