Back to all posts
Posted on
First Rider - Tuesday August 14 1:00-3:00 pm and 6:30-8:00 pm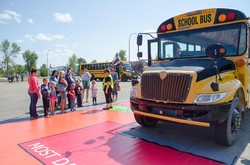 Please join us for a great learning experience for first-time school bus riders, as well as parents/guardians who would like to know the general safety rules, etiquette and guidelines of their child's journey to and back from school every day.

This year's First Rider sessions will take place: 

Tuesday, August 14
1:00 - 3:00 p.m. & 6:30 - 8:00 p.m.
École Secondaire Notre Dame High School Parking Lot
50 Lees Street, Red Deer

Please note that parents must accompany their child throughout this event and be readily available for at least 45 minutes to an hour. Any member of the public is welcome to attend.