Back to all posts
Posted on
Grade 5 Classes Visit Michener Extendicare Centre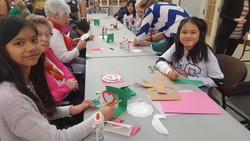 Grade 5s participated in the Adopt a Grandparent program as their Social Justice project. This is a partnership between Michener Extendicare Centre and schools in Red Deer.
The goal of the program is to foster communication and relationship building skills between students and senior residents. Aside from communication and relationship building, our students learn the value of sharing our gifts and talents with our community and instills empathy, patience and passion for community volunteerism.
This program is valued and look forward to by students and seniors.