Back to all posts
Posted on
Guest blogger - Jiana Pielago & Solomiia Oliinyk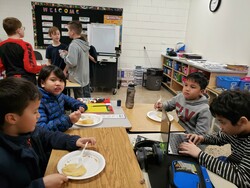 Picture 1: This picture shows 2 students in our class who got ashes for the first time. In the background you can see our class academic word list, and our prayer table. The prayer table helps us to pray and thank God.
Picture 2: The two young girls are typing a story on Boomwriter. They use their imaginations, and worked as a team to create a story. We find this activity fun because each class gets to share what they are learning in literacy. 
Picture 3: We ate pancakes together to get ready for Lent. They were delicious!