Back to all posts
Posted on
Hot Lunch is up and running!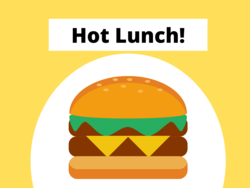 To order Hot Lunch check out https://healthyhunger.ca/.
Wednesday, February 2 - Quesada
Thursday, February 3 - FreshSlice Pizza
Friday, February 4 - Chopped Leaf
All hot lunch orders need to be placed through a Healthy Hunger account. You can not order through the office. If you are interested in participating in these hot lunches and already have an account with Healthy Hunger, just log into your account and click on the 'ORDER NOW' button next to each hot lunch date.  Fill in your order form and either select 'PAY NOW' or 'ADD TO CART' if you would like to make an order for more than one hot lunch in a single transaction.  
If you are new to Healthy Hunger and have not registered an account but would like to order hot lunch, please register an account by following these steps: 
Go to www.HealthyHunger.ca
Click "REGISTER STUDENT ACCOUNT." Then create your account.  
Once your account has been created, add your children to the account and you are done! 
Please contact Healthy Hunger at 1-800-818-6260 if you have any questions regarding account registration or ordering.  
If you have any questions or concerns, please contact amanda.oberg@rdcrs.ca.