Dawe Public Library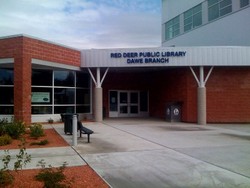 In addition to being a full-service public library branch, the Dawe Public library is St. Patrick's Community School's library, and home to RDPL's Adult Literacy program and various programs for the community.
Check out their website: Dawe Public Library.
Conversation Class - Level 4 (Dawe Branch)
Mondays, January 14 - March 11, 2019
6:30 p.m. - 8:00 p.m.
Dawe Library Program Room
This class will focus on everyday listening and speaking skills as well as vocabulary. Cost is $30 per person.
Oral Communications Skills Class for Foreign-Trained Professionals (Dawe Branch)
For nurses, physicians, pharmacists, engineers, accountants, teachers, lawyers etc.
Thursdays, January 10 - February 14, 2019
6:00 p.m. - 8:00 p.m.

Build on vocabulary, pronunciation and idioms in this eight-week course. 
Canadian culture and social situations will be discussed.
You must be at Canadian Language Benchmark 5 to participate. Class is limited to 12 participants. 
Cost is $50 per person.
Pronunciation Class (Dawe Branch)
Tuesdays and Thursdays, January 15 - January 31, 2019
9:30 a.m. - 11:30 a.m.
Dawe Centre Room 
Join us to improve your pronunciation skills and overcome common problems with English pronunciation. 
Gain confidence in your ability to communicate in English. Cost is $30 per person.
For more information on any Adult Literacy programs, contact the Red Deer Public Library at 403-346-2533 or by email at adultlit@rdpl.org.