Dawe Public Library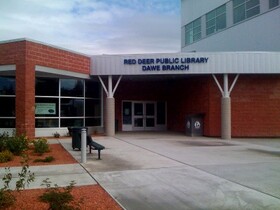 In addition to being a full-service public library branch, the Dawe Public library is St. Patrick's Community School's library, and home to RDPL's Adult Literacy program and various programs for the community.
Check out their website: Dawe Public Library.
Super Fun Saturdays - Pinoy Connect (Dawe Branch)
January 12, February 9
3 p.m. – 5 p.m.
Families welcome
The Global Filipino Canadian Cultural Society presents this series of fun family programs in the language of Filipino.
Meet other Filipino families and speak, learn and play in Filipino!
 Chess Club (Dawe Branch)
Mondays 
5 p.m. - 6 p.m.
All Ages
All levels of players are welcome. 
Cosponsored with the Alberta Chess Association.
Conversation Class - Level 4 (Dawe Branch)
Mondays, January 14 - March 11, 2019
6:30 p.m. - 8:00 p.m.
Dawe Library Program Room
This class will focus on everyday listening and speaking skills as well as vocabulary. Cost is $30 per person.