School Bus Information
Parents/guardians need to register their child(ren) to access bus service for the 2020-2021 school year.
To promote efficient routing planning, Red Deer Catholic Schools is implementing a late fee of $50 per student. Please ensure your child is registered for busing before June 15, 2020. 
If you will be riding the bus to and from school, please ensure you complete the School Bus Registration Form. 
For school bus information and eligibility, please visit rdcrs.ca/schools/school-bus-information. 
Transportation fees apply to all students residing less than 2.4 km walking distance from their designated school.
For more information, contact the Transportation Department.
Download the RDCRS School Bus App!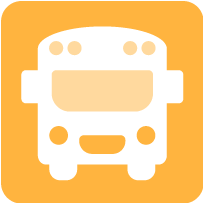 Bus Status for iOS and Android notifies you when your school bus is cancelled or delayed.
Please download Bus Status at your earliest convenience to continue or to receive school bus notifications from Red Deer Catholic Regional Schools. To install this app, please follow the directions below:
Step 1: Download the Bus Status app by Box Clever.
Step 2: Open the app and select Red Deer Catholic Regional Schools from the list (you only need to select your district the first time you open the app. Bus Status will remember your selection).
Step 3: Go to All Buses. Tap the star to add a bus to My Buses.
Step 4: You'll receive a notification when one of your buses is Delayed, Cancelled, or Early.
Step 5: Tap the bell icon to see general Notifications from Red Deer Catholic Regional Schools.
School Bus Safety Tips
Attached is a School Bus Safety bulletin this is endorsed through our insurance carrier contractor - Suncorp Valuations.  Please Read.